Diggers-in-Distress

EXCAVATOR PARTS AND MACHINERY SALES
BUY ONLINE STORE

Diggers in Distress!
Unfortunately as you well know, when things go wrong with Excavators, sometimes they go really wrong!
You can do one of two things when this happens:
1. Scream, Kick the dog and swear
or
2. Get annoyed, but then - look at the bright side of life - as long as no ones hurt and you have a camera then theres an opourtunity there!
Email me the pictures of the incident that the boys still give you a hard time about at the pub on Friday night and we will load it on here for the World to see!
Give us a bit of a run down of what happend to so the viewers can work out how you got in the position!
note; were not interested in anything where people lost their lives, this is a light hearted look at what can happen and survive to tell the tale!
Email to craig@excavatorparts.co.nz
And remember; if you can laugh at yourself, send us your pictures so we can laugh instead!!!!!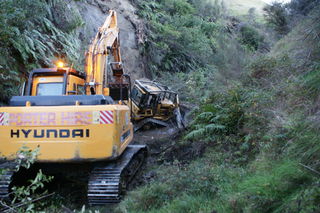 D4H ROLL OVER
Photo 3 of 3. Location; Napier, New Zealand. Thanks for the photos Rob Scurr!...[more]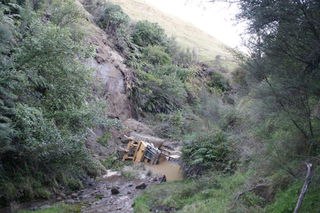 D4H ROLL OVER - 2
Photo 2 of 3 Location; Napier, New Zealand Thanks Rob Scurr for the photos...[more]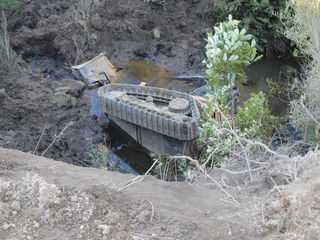 D4H ROLL OVER
PHOTO 1 of 3...[more]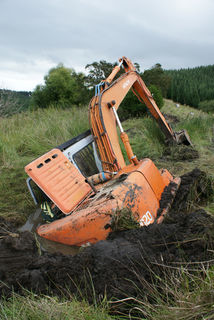 EX120-2 STUCK IN THE MUD
EX120-2 Stuck really well in Napier, New Zealand. Thanks Robert Scurr for the photos...[more]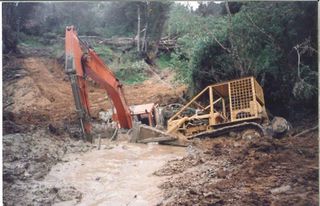 EX200 AND D6B
We've all been stuck before but.......[more]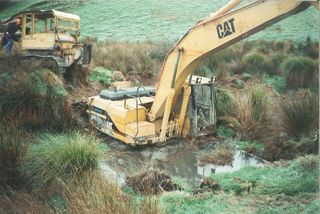 Cat 320 and D7G
Swamp vs. Caterpillar 320 Pretty clear who won this round....[more]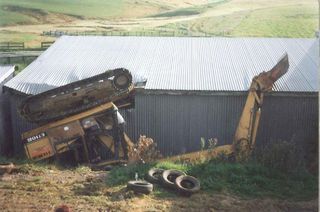 Caterpillar E110B
Rolled down the hill. Pretty strong cabin considering theres no ROPS...[more]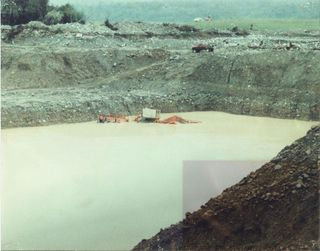 HITACHI EX1800
EX1800 at Foxes Creek, Hokitika. Was mining in the middle of the night until the bank caved in. . Believe it or not, a seperate powerpack was hooked on the finals, a ramp made and the old girl walked out for a full rebuild!...[more]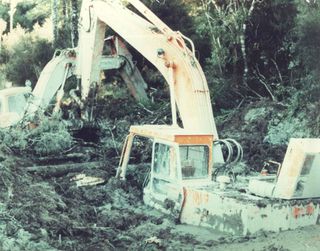 UH083 and UH083
Location: Ianthe Forrest, South Westland. First one got stuck, second one got stuck, loader got stuck. Ended up having to get a D8 to get them out!...[more]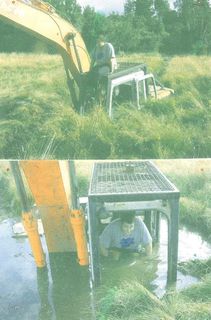 HITACHI EX150-1 ( TITANIC MODEL )
Raz the new boy shows us how to dig drains. not very well though. His shout......[more]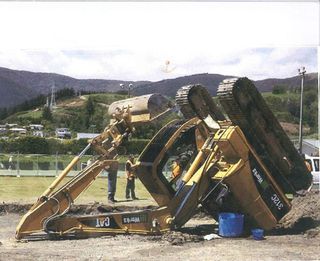 CAT 312C
The guys in Nelson show everyone in the new style of parking. Unfortunately this is right next to a school with 1200 students... at 3 o'clock......[more]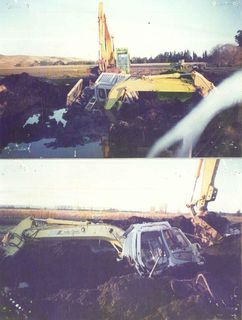 Sumitomo SH120-1a
No caption - just a very frustrated owner.. thanks for sharing!!!...[more]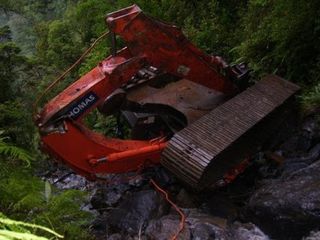 Hitachi Zaxis Roll-over
Hitachi Zaxis was working in steep terrain on road maintenance when the machine went over the edge. Thankfully, the operator is okay....[more]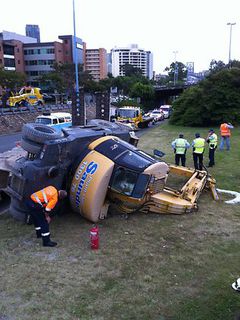 This is not the place to lay down for a rest....
DIGGER DUMPED: A digger crashed off the back of a truck near the Story Bridge, Brisbane causing big traffic tailbacks Traffic delays lasted for more than an hour as the site was cleared. No-one was hurt in the incident. ( storey courtesy of couriermail.com.au )...[more]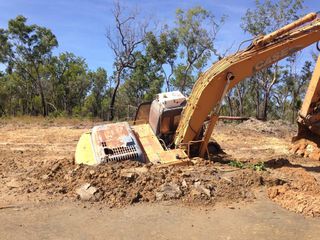 CX290 Parked.. Aussie style!
Only in Australia can an Excavator get so stuck, then dried into place!...[more]